Exploring Pattern Design in Quebec City
About My Creative Experiments in Visual Communication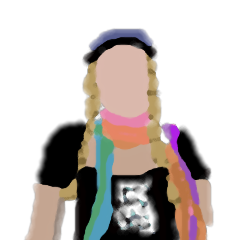 Jour 35 / Day 35 digital painting on photo

Michèle Thibeau lives and works in Quebec City, Canada.
Living in English and French means constantly balancing both languages, being inspired by the magic of the spaces and conversations in between. This enriching environment has led her to push further into finding ways to communicate in that universal space.
Michèle's pattern design curiosity grew from attempts to illustrate her creative writing and to explore communicating more visually.
By day, she works in community economic development and employability. By night, she creates digital designs. Inspired by backyard nature, food, landscape and architecture, she experiments with colour and shape, creating modern, geometric and batik-inspired patterns.
She loves pushing past 'ugly' to discover interesting shapes for repeats, deconstructing and reconstructing her work, and recolouring it with her designs and textures.
I'd love to hear from you! Email me at design @ michelethibeau.ca (remove the spaces around the '@').
You'll find news about my current design and translation projects at @zigzagmlt on Twitter and Facebook . In the meantime, take a look at my work in the galleries on this site. Interested in collaborating on a project? Get in touch!